There's no shortage of information and happenings coming out of The World Is Just A Book Away's work in Indonesia! Parents often walk miles with their children to school, and some tend to stay in the area, waiting for the children to be out of school and walk back with them. So, they were eager to also have a library and spend their time reading, of course!
Robert Lucas, our Indonesia Country Director, shares the exciting news about the new Parents' Libraries!
******
Here in Sidoarjo, WIJABA opened the first 4 of 10 Parents' Libraries today and I couldn't wait to share the excitement with you. We had dozens of mothers and fathers from each community who came to quell their curiosity over the 50 new books that recently arrived at each of their children's libraries. The books cover topics ranging from sustainable agricultural practices to recipe books that add a delectable twist on traditional dishes to creative parenting advice on motivating their children at school and at home. All were received with expressions of joy and gratitude.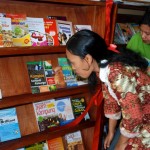 See opening ceremony pictures! http://wijabagallery.org/main.php?g2_itemId=21333
Librarians made impromptu check-out sheets for the books because parents were already so eager to take them home and explore the knowledge within.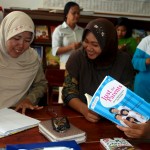 Mrs. Trihana, mother of a 1st grade son at SDN Kalidawir, exalted one of the many possibilities found amongst the new books, "Every day I help my husband make bakso, which he sells around the community. I'm very excited to try new, tastier recipes for bakso from this book and to see how many more customers we can attract, so thank you. This will help our family very much."
Bakso is a yummy bowl of tofu and Indonesian meatballs in noodle soup. You'll have to come visit just to try Mrs. Trihana's famous bakso!
Special thank you's to Alex Schaffhausen, Dale Henry, Jim and Julie Heydenreich, and Ryan South who so generously made these first 4 libraries a reality for the parents and communities of Sidoarjo. Together we change the world.
******