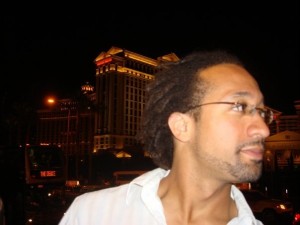 We are consistently amazed at the people that come into the sphere of The World of Just a Book Away. And we are honored. Dale Henry is one such person. An Amherst College graduate originally from Detroit by way of Newport News, VA, he works as an Autism Teacher at Belmont High School in downtown Los Angeles. He will graduate from the EDD program in May 2012 with a K-12 concentration.
AND…amidst all this, Dale donated a parents' library in honor of his mother–the money comes from a scholarship he received. He also raised $300 at the WIJABA 5K last month.
Need we say more? Except how grateful we are. He has also contributed this truly inspiring post, which I think we can all relate to in some form, and is why we are all involved with WIJABA.
***
Founder and President of WIJABA, James J. Owens, asked if I could share a few words about why I decided to donate a portion of scholarship funds I was awarded from Amherst College to the organization. Not a problem. Here's why:
When I was a child, I loved to read. I remember spending the night at my grandmother's apartment in downtown Newport News, Virginia, and my grandmother scolding me repeatedly for trying to read in bed with the soft light lamp at the head of her bed, just minutes before I would go to sleep. "You'll hurt your eyes reading in the dark like that," she would say. And I would smile a grandson's smile. And she would let me keep reading.
I remember my mother attempting to punish me with the motherly staple of child offense, "Go to your room!", when I would get into trouble. An hour or so later, my mother would come into my room, incensed at the fact that this form of punishment did not have its intended effect. I was more than happy to go to my room. I could read there. The veritable library of books she had bought me as a child kept me company when I was in trouble.
When I was in middle school, I remember that it was a book that drew me into the adult world ahead of my time. To Kill a Mockingbird in 7th grade, and its themes of justice and injustice, the compassion of the human spirit, and the shattering of an innocence marred mystified and challenged me not only as a reader of books, but as a human being. This book is also the reason why my future son will bear the name Atticus, because of the sense of justice this life-altering character embodied.
In high school, not only did I read the required tragedies of Shakespeare, but I marveled at how the complexities and intricacies of what I read were sometimes reflected in my own life. I knew but few of the offenses that Othello endured, because they were my own, but I would hold my girlfriend's hand as she read the play in the chair in front of me, and embodied the love of Desdemona. And like Desdemona, my girlfriend knew the shame of a family's reaction. To this day, I still let fly the words of Hamlet when the difficulties of life seem to conspire, "When sorrows come, they come not single spies, but in battalions". Committed to memory, the words of this art are forever a part of me.
James Owens asked me why I gave to WIJABA, but to me there was never any question that I should give. Books have offered direct influence on my character, my creativity, and my sense of purpose in life. The thundering morality of James Baldwin and Frederick Douglas, the love-ache in the heart of Pablo Neruda, the innovation of e.e. cummings, the supple strength of Alice Walker, Toni Morrison, and Lorraine Hansberry. These are my heroes and my guides in life. How could I not support an endeavor whose purpose is to bring influences like this to those who did not have my opportunities?
And now, as a teacher, it is my function to bring this love of reading to others. My hope is that others may be inspired to give as well.
***
A Note from James Owens, WIJABA Founder: When Dale shared with me that he wanted to donate a portion of his scholarship to help WIJABA with our work with in Indonesia–I was deeply touched.
I know there are so many good causes and so much work to be done in the world. I am touched when people donate to WIJABA in any form, big or small.
But, when a young man, already serving as a teacher to disabled children who is also a doctoral candidate donates from his scholarship money fo fund a WIJABA Parents' Library–WOW–I was and am deeply moved; and I consider myself blessed to know this man who lives his life in such a spirit of giving. Dale, you are indeed an inspiration to me and to many others.