We have to say that The World Is Just A Book Away and Founder James Owens attract fascinating people to be involved in this amazing venture! Shannon MacMillan is an actor and physical performer who grew up in Orange County, CA, and ended up back in Los Angeles via Massachusetts, New York, and Northern California. According to Shannon, when she moved to LA, she was fortunate that James didn't know how crazy it was to hire a professional clown as an administrative assistant! We coaxed her and got a little more out of her. Hope you enjoy!
******
Even as an adult, I can still hear my mother's voice, sometimes deep and slow, sometimes curt and wiry-sounding. She was giving life to the characters of L.M. Montgomery's Anne of Green Gables, which remains one of my favorite books today. Her animated renditions of even the driest stories influenced me so much, I decided that making "funny voices" was what I wanted to do when I grew up. Today, as an actor and physical/circus performer in Los Angeles, I use my "funny voices" daily!
I was fortunate to grow up in a household of books, where reading aloud was a nightly activity and trips to the library a weekly adventure. My mother is a children's book author with over 25 books published, so I was blessed with a non-stop supply of the best books of the genre.
As with most who've come to support The World Is Just A Book Away, this early love of books and the culture of reading drew me to work with James as his first administrative assistant. I worked directly with WIJABA for only a short time, but I am so happy I was able to leave a lasting impact.
I knew the organization could go further if it established non-profit status. In spite of the time I spend clowning, playing with puppets, and being silly, I actually have a background in non-profit administration.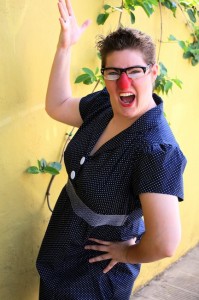 It quickly became clear that the best thing I could do would be to see the filing process through. I knew I had to keep working towards the 501(c)(3)-status for a few reasons – the first being that James was so busy building libraries he couldn't do it himself! It was also overwhelmingly apparent that the generosity of WIJABA's supporters would only grow once we could accept donations directly.
The process to establish a charitable organization is a lengthy one, much like founding any other type of corporation, and involves literally mountains of paperwork. We were so fortunate to have the assistance of two amazing women – Laura Kalick, the Director of Nonprofit Tax Consulting at BDO, and Mishawn Nolan, Esq., of Stone, Rosenblatt, & Cha – who each advised me as I waded my way through the legalities. Due to the fact that WIJABA had already been established for over two years, there were two possible outcomes: everything could go horribly wrong or everything could go perfectly well. I admit I was worried about the former, and Laura advised that once we filed it would most likely take 3 months to 8 months to hear a response.
Imagine my surprise when a mere month after filing we received the official acceptance letter! It shows how far-reaching WIJABA's impact is – the incredible, life-changing work of bringing books and community spaces into the lives of people who have none – that the bureaucratic process went as smoothly as possible. I am so proud of the work WIJABA continues to do for the children and parents of Indonesia, work that will eventually spread around the globe, and I'm amazed that I was able to contribute to bring that work about. Plus if any of the libraries ever need someone who specializes in "funny voices," James knows whom to call!
******
Follow WIJABA on Facebook, or Twitter (@justabookaway) and invite your friends, too! If you would like to get involved in WIJABA please visit our website at www.justabookaway.org or email info@justabookaway.org