It's been too long!  We've missed you, and we hope you've missed us.  We apologize for the space of time since our last post, and since then we've had our 2nd Annual 5K event, on March 25th, both in Indonesia (where it was sunny) and in Los Angeles (where we all got happily soaked).  But more on that in a future post.
Today we thought we'd share with you something about how books are selected, and…our fantastic librarians that manage our The World Is Just a Book Away (WIJABA) school libraries.  Those unsung heroes…  Of course, we turned to our highly informative and active Executive Director Robert Lucas, who was just in Indonesia in February, and he's given us a bit of a rundown and some photos about our Librarian Training Program.  We hope you enjoy and choose to share this with at least one friend or colleague!
******
Isn't there more to it than just giving books to the kids? Yes. For those of you wondering what else goes on with the books we provide, this is the blog post for you.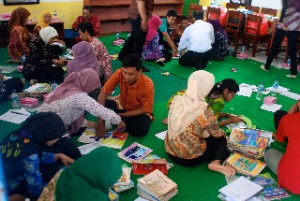 To start, the books have to be selected from local publishing catalogs and a foundational element of WIJABA is that the selection process involves the children, parents, and schools. Before starting in a new region, we visit schools to hold focus groups with the children to determine what their interests are, based on the available choices. We then take their requests and verify them with experts in education in the U.S., whereupon the parents and schools approve the final selection.
What happens once the kids have the books in their hands? Isn't there more? Yes. One of the most important pieces of this whole process is to verify the initial interests of the children through collecting data on how the books are actually being used.
To do this, WIJABA created a unique two-pronged system using color-coding and numerical coding to track the books. These systems allow us to monitor the various trends over time in book genre and language by gender and age. For example, we can see that the new Indonesian science books are not so popular with the younger girls, but the English storybooks are. From this we can better provide for the children and their interests as observed in each library. Being able to collect this data gives us a powerful tool to continuously improve the book collections and libraries.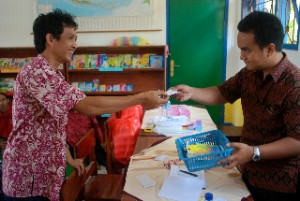 It's been a joy to initiate these systems for WIJABA, which were launched through the Librarian Training Program in Sidoarjo this past February. Initially, I thought that the librarians would be apprehensive towards the new ideas and that the dry topics of the Dewey Decimal System wouldn't catch on very fast. I was pleasantly surprised. We all gathered at SDN Kalisampurno I in Sidoarjo to take steps toward the implementations of these new ideas and systems and there was no grumbling, only gratitude.
I learned something very valuable through the launch of the Librarian Training Program and that is librarians are some of the most generous and humble people you will ever meet. They safeguard the world's store of knowledge and willingly offer any curious mind access upon request. Their lives are devoted to sharing stories with others and they certainly don't do it for the fame or money. To all the librarians around the world, especially those at WIJABA libraries in Indonesia, I salute you for your dedication to books and the magic found between the pages.
******
BY THE WAY…don't forget to check out the new book by Board member AGS Johnson, "The Sausage Maker's Daughters", as part of WIJABA's Authors for Books program. A portion of the proceeds from the book go to WIJABA, so read a great book and make a donation in the process!
Follow WIJABA on Facebook, or Twitter (@justabookaway) and invite your friends, too! If you would like to get involved in WIJABA, and support all these creative, educational programs and efforts, please visit www.justabookaway.org or email info@justabookaway.org. To DONATE, please click HERE. Thank you!